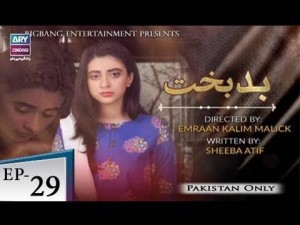 Badbakht – Episode 29 – 3rd July 2018
A simple girl with a lovely nature,Amal is a daughter of Adnan Jilani as " Javed Ali" and his wife, Faiza Gilani as "Kulsoom". Both the parents are very sweet and hide there feelings to maintain the dignity of the house built by Javed Ali's father who was a wealthy man and left a handsome amount of wealth for his two sons.
Cousin of Amal and son of Abid Ali, a man who was apparently in love with Amal, but later on turned out to be a womanizer and a cruel man.
Written by: Huda Atif
Directed by: Imran Kaleem
Cast:
Manzoor Qureshi,
Tabassum Arif,
Kunwar Nafees,
Fahad Shiekh,
Natalia Awais,
Adnan Jilani,
Faiza Gilnai,
Sabeena Syed,
Naushaba Javed,
Furqan Qureshi,
Esha Noor,
Saba Khan