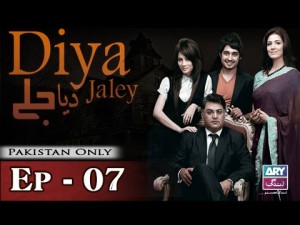 Diya Jalay – Episode 07 – 7th February 2017 
This is the story of today's woman who don't want to be ignored and even
more confident than ever. Nadia is the protagonist of the serial who is well
educated and engaged with Sameer in the childhood. After some clashes
with Smaeer, she refused to marry with him and everyone started criticizing
her on this decision.
Cast:
Faisal Qureshi
Natasha D'Souza
Ismat Zaidi, Adnan
Siddiqi, Sami Sani
Sawera Nadeem
Maria Wasti
Asif Raza Mir
Director : Babar Javaid
Written : Faiza Iftikhar
Mon to Sun at 5:00PM only on ARY Zindagi.