Here is the public survey about which milk do Pakistanis prefer to consume and why?
#ARYZindagi #SaafDoodh #SafeMilk #PackagedMilk
You may also like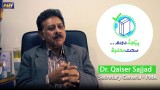 0 Views0 Comments0 Likes
Please Subscribe Here: https://bit.ly/2vwQ8b1 Dr. Qaiser Sajjad is an eye-witness of the UHT process carried out in Pakistan. Let's have a look at what he has to say about UHT treated milk. Website: http://www.a...