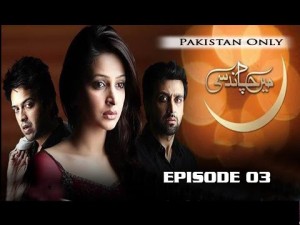 Mein Chand Si – Episode 04 – 13th January 2017 
Main Chaand Si is a story revolving around Irsa (Saba Qamar), Salaar (Sami Khan), and Farhan (Fahad Mustafa). Irsa thinks she extremely beautiful, hence the name, Main Chaand Si. She gets married to Salaar in hopes of money and riches. Later she realizes how conservative his family is, and rebels against burqa, dressing in eastern clothes, etc… Salaar's family constantly hates her actions, and don't accept her as a true bahu. Irsa's family however, is more "modern" relating to acting pretty close with cousins, dancing at shadis, and all. At an engagement, Irsa dances with Farhan and a video is taken of her by her brother in law's son and given to Salaar. Salaar gets mad and calls Irsa's mom names. Irsa finds out and she refuses to go back home, causing Salaar to threaten Irsa on divorce over the phone.
Cast:
Fahad Mustafa,
Qaiser Naqvi,
Saba Qamar,
Sana Askari,
Sami Khan Niazi.
Writer : Memona Khurshid Ali
Director : Babar Javaid
Mon to Sun at 5:00PM only on ARY Zindagi.