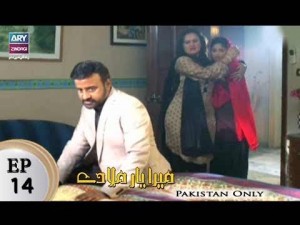 Mera Yaar Miladay – Episode 14 – 2nd December 2017
Sajal Ali as (Mashq) who is madly in love with Fahad; she leaves her home for the sake of her love because the only thing which matters in her life is her love for Fahad..
Fahad as Ahmed Ali is an obedient guy but the only thing which has made him rebel is Love. He is also on the journey of finding love where he is not sure of his destination but his only motivation is Mashq.
Faysal Qureshi as Dabbu.Dabbu can do anything in the name of love; making Mashq and Fahad one becomes his only task of life just because he is crazy when it comes to Love!
Just because Love is the matter of luck..!So Don't forget to watch the story of obsessed lovers!
Writer : Mushtaq Mansoor
Director : Anjum Shehzad
Cast:
Sajjal Ali,
Faysal Qureshi,
Ahmed Ali ,
Zaiba Shahnaz,
Rehma,
Ayesha Khan,
Firdous Jamal,
Faryal Mehmood,
Asim Battal,
Shahid Naqvi,
Fazal
Faiza Gillani
Kunwar Nafees
Saleem Mairaj and others.