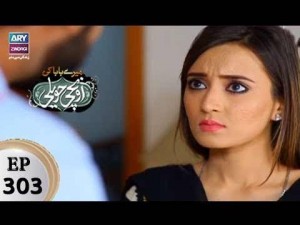 Mere Baba ki Ounchi Haveli – Episode 303 – 26th February 2018
Mere Baba ki Ounchi Haveli is a story of a dominant father who raised his three daughters well, but his dominant nature and over protective attitude caused his daughters some unbearable pain. For every girl her father is basically everything she would want in her life partner, but that wasn't the case for these girls.
Abba Mian was against the person Safia (the eldest daughter) loved; and he wedded her to someone of his own preference – which resulted in a sad marriage. His second daughter Sidra – a self absorbed girl; blames her father for the damages in her life.
His third and the youngest daughter Abeera – who is the apple of her father's eye always takes his side, but let's see what future holds for her and if she will continue to love her dad the way she does now. The story takes a turn when Agha Ji  marries the daughter of his deceased friend who is of his own daughter's age, for reasons only he is aware of.
Director: Saqib Zafar Khan
Writer: Samina Ejaz
Cast:
Talat Hussain,
Marium Ansari,
Mehwish Qureshi,
Sukaina,
Bakhtawar,
Faraz Farooqui,
Tahir Ali Shah,
Saleem Mairaj.