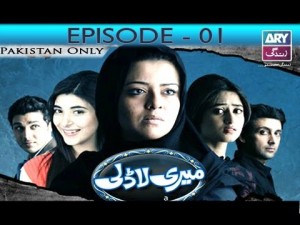 Aarfah runs from the house to get married with her love Sajid, but her new life is full
of sorrow and pains. Sajid's mother was not interested in Aarfah and never accepted
her in the house. With the passage of time, Sajid also started hating her wife and he
gave her divorced right after the birth of baby girl, Esha. She came back to her house
after some resistance but her position remains like a servant in the house. The story
takes a turn when her younger brother's daughter and her own daughter developed
feeling with a same guy, Tabraiz. On the other hand, Tabraiz is interested in Esha and
wants to marry with her. To want more, watch latest episode of the serial.
Cast:
Sajal Ali as Eesha
Urwa Hocane as Rafia
Sami Khan as Abdul Hadi
Ahsan Khan as Tabraiz
Faizan Khawaja as Arbaaz
Maria Wasti as Arfa (Eesha's mother)
Writter : Maha Malik
Directer : Nadeem Siddique
Mon to Sun at 9:00PM only on ARY Zindagi.