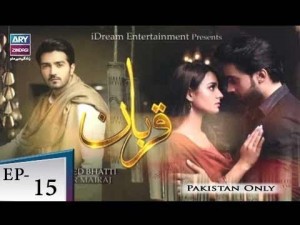 Qurban – Episode 15 – 30th May 2018
Heer who was born with a silver spoon finds Jamal who is not financially stable but possess all good qualities of her father which could not stop her from falling in love with him.But, her parents want her to marry Shahmeer, who is Heer's father's best friend son and her fiancé since childhood.Heer disagrees with her parents' decision and goes against them and secretly marries Jamal.A few days later, Jamal gets disappear without informing anyone which disturbs Heer's life. Her parents do not believe her and force her to get married to Shahmeer. Nikkah over Nikkah is not allowed and a sin in Islam, but no one believes Heer about her first Nikkah.Now, she is married to Shahmeer and trying to find Jamal to get a divorce. Her guilt is not letting her live a happy life with her husband.How Heer will tell Shahmeer about her nikkah with Jamal? What will Shahmeer do when he will get to the truth?
Director: Ahmed Bhatti
Writer: Zafar Miraaj
Cast:
Iqra Aziz,
Bilal Abbas Khan,
Shehzad Sheikh,
Laila R Wasti,
Rehan Sheikh,
Umair Rana,
Shamim Hilali,
Yashma Gill and Others.