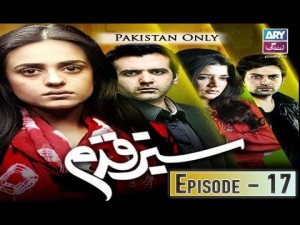 Sabz Qadam It's tale of a beautiful and talented middle class girl
"momina". because of the conservative mind-set of the family and
drug addict brother, her life emerge complex since the
beginning. "momina" is forced by her family to do exchange
marriage with his paternal cousin "ajmal", who's an ignorant and
useless person. on the eve of marriage "ajmal" gets shot and
dies.
Cast:
Sumbul Iqbal,
Akber Subhani,
Farah Zeba,
Hassan Ahmed,
Farah Shah,
Shahjehan Rana,
Tabraiz Shah,
Shahid Naqvi,
Tipu Shah ,
Fareeha Jabeen,
Farah Ali,
Afnan,
Areeba Ali Jaffery,
Nazleen Nasir & Zareen Tahir
Writter  : Shagufta Bhatti
Directer : Mohsin Mirza
Mon to Fri at 6:00PM only on ARY Zindagi.