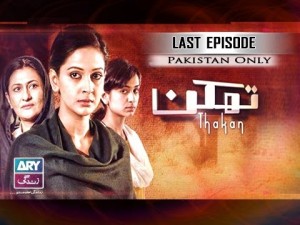 Thakan is the story of a young woman who spent her whole life for the sake of her family. She
did everything for them, but they always demand for more and in the response, she gets
nothing from them. This is a story about loss of love, even it is the loss of mother's love for her
children.
Cast:
Saba Qamar
Farooq Zameer
Farah Tufail
Saba Hameed
Yumna Zaidi.
Writter: Faiza Iftikhar
Directer: Ameen Iqbal
Mon to Fri at 6:00PM only on ARY Zindagi.