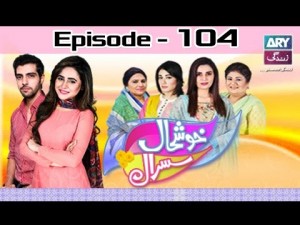 Khushaal Susral Ep – 104 – 19th October 2016 Khushaal Susraal portrays story of two families, who get bonded with each other after marriage of their children Huma and Umer.
Cast:
Fazaila Lashari,
Sadia Ghaffar,
Furqan Qureshi,
Rubina Arif,
Anwer Iqbal,
Afraz Rasool,
Asad Mehmood,
Rizz Kamali and others.
Director: Shahid Younus
Writer: Nuzhat Suman
Mon to Thu at 7:00PM only on ARY Zindagi.