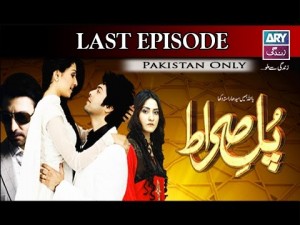 Pul Sirat  is a story that marks a distinction between good and evil. The drama revolves around three different plots all highlighting the conflict between guilt and virtuousness. Asad and Momina, depict the love and relationship between a drunkard and a sober lady. Whereas in case of Saqlain and Alina the situation is vice versa and the third track marks the ill consequences of earnings through illegal means. In all the above mentioned scenarios, the followers of the divine path are trying their level best to draw the followers of the devil out of the marsh of menace.Pulsirat
 Cast :
Aijaz Aslam
Aiza Khan
Anoushay Abbasi
Fahad Mustafa
Fatima Effendi
Jahan Ara Hai
Saleem Mairaj
Salma Shaheen
Sana Askari
Sheharyar Zai
Written by : Qaisra Hayaat
Directed by : Nadeem Siddique
Mon to Sun at 5:00PM only on ARY Zindagi.